Promocodes
Promotional code is a special text code that gives a user the right to get a discount or free subscription. Promotional codes can be found in email newsletters (if the user has subscribed to this service) as bonuses for active participation in the work of the service or as parts of special promotional campaigns.
In order to use the promotional code, you need to activate it. This can be done on this page (Profile - Account), or on the plans page, right under the description of plans. After activation, the promotional code will be displayed in the list of active promo codes, where there will also be information what this promo code provides a user with and the date of its expiration.
An active promotional code is automatically applied when purchasing a subscription, displaying prices with a discount (if the promotional code implies a discount), or presenting a certain plan with a cost of 0 rub. in the plan scale, if the promo code implies a free subscription.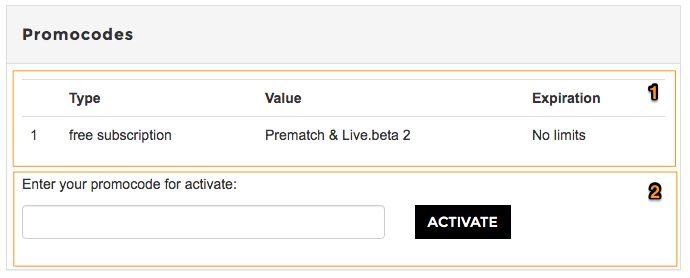 List of active promo codes
Field to activate the received promo code.